---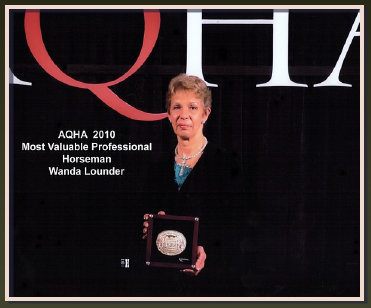 Established in 1982, Double L Stable is a family owned and operated business, located in the quiet and picturesque town of Hancock, Maine.
Wanda Lounder, Double L owner/operator, is an AQHA Professional Horseman and has been instructing and training for over 30 years. She was awarded as MeQHA's 2009 & 2010, Most Valuable Professional Horseman and AQHA 2010 and Most Valuable Professional Horseman. She is an AQHA Ambassador, AQHA Youth Committee, Carded Open Horse Show Judge, a member of AQHA, IBHA, American Horse Council and the Maine Farm Bureau. She contributes her love of horses and the desire to teach and train to her Dad.
At Double L, we believe that the "Young" and the "Young at heart" should learn and enjoy all aspects of horsemanship, from trail riding to showing, and everything in between. Visitors are always welcome.
A HORSE CAN LEND ITS RIDER THE STRENGTH HE OR SHE LACKS, BUT THE
RIDER WHO IS WISE REMEMBERS IT IS NO MORE THAN A LOAN............PAM BROWN B. 1928.

TO BE LOVED BY A HORSE, OR BY ANY ANIMAL, SHOULD FILL US WITH AWE-
FOR WE HAVE NOT DESERVED IT.....MARION GARRETTY B. 1917